FAQs
Frequently Asked Questions
(for Reserved Seating Events only)
Can I purchase tickets using both Windows and Mac desktops/laptops as well as Android and iOS mobile devices?
Yes, you can purchase tickets using all of the above platforms.
Do I need to use a specific web browser to purchase tickets?
How do I select a Grandstand seat?
Hover over each of the purple or blue squares within the seating chart to view seating details (eg: ticket category, location, price and availability)
*Purple or Blue circles represent available seats / Gray circles represent unavailable seats.
Identify your seat(s) of choice and click on each seat that you wish to select.
*After clicking on your chosen seat, you will see a message displayed on-screen which reads "Loading, one moment please".
  Once your seat selection has been activated, this message will disappear and you will see an area above the seating chart which lists all of your current reservations.
Continue to add seats, one at a time, until all of your seats have been selected and are displayed in the current reservations area.
To view additional seating blocks, you may utilize any of the following commands:
• Use the plus or minus buttons on the right to zoom in and out of the seating chart.
• Click on any gray circle or white area within the seating chart, and while keeping your mouse button depressed, drag to the left or to the right.
How do I select a Bleachers seat?
The Bleachers section of the National Stadium has no assigned seating. You can therefore just scroll down to the Bleachers section located above the seating chart and add a bleachers ticket to your cart.
Once you're in your shopping cart, you can increase or decrease the number of Bleachers tickets before finalizing your purchase by clicking on the (+) or (-) buttons.
How do I remove a ticket from my cart after I've selected it?
Click on the (x) icon to the left of each of your reserved Grandstand ticket(s) to remove it from your cart.
How do I pay for my tickets online?
After selecting your seat(s), proceed to checkout by clicking on the "Buy Grandstand Tickets" button or on the shopping cart icon .
Review your seat selection(s) and order details and then click on the "Proceed to Checkout" button at the end of the page.

Returning customers – may log into their account by using their existing username and password and enjoy expedited checkout.
New Customers – new customers may be opt to create an account to enjoy expedited checkout on future orders.
Payment – all payments must be remitted via credit card and transactions will be processed through Stripe.  Note – You will not have to login to or create a Stripe account.
Are online tickets sold in JM$ currency?
All Electronic Tickets sold online are quoted, and billed, in US currency.
Are there any fees in addition to the cost of the ticket when purchasing online?
Yes, there are additional service fees (comprised of convenience fees and gateway fees) applied for the provision of this service and delivery of your eTicket.
(Example: a JM$5,000.00 ticket would cost US$47.34 inclusive of fees.)
How will I get my ticket for the event after I've purchased online?
All tickets are delivered electronically via email. To retrieve your e-tickets, please review the following information:
Upon completion of payment, you will receive an email from Mysticonline titled "Your MysticonlineTix order from (Month, Day, Year) is complete" (similar to the image below). This email from Mysticonline provides a copy of your transaction details and also contains hyperlinks for viewing and printing your barcoded tickets.
If you do not see this email in your inbox, please check your spam/junk mail folder as customers sometimes realize after the fact that our confirmation email message was received but automatically and erroneously routed to their spam/junk mail folder.
If the Mysticonline email confirmation message is not in your spam/junk mail folder, you may contact us and we will resend the confirmation message to you.
Once you have received the Mysticonline email confirmation message (as shown in the image below), you may effect either of the 2 steps below in order to view and print your barcoded tickets.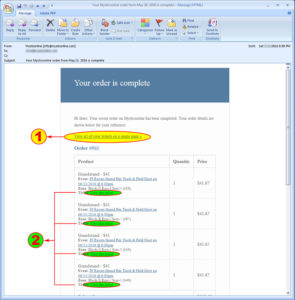 1. Click on the hyperlink which reads "View all of your tickets on a single page" (Item #1, highlighted in yellow). Doing this will launch your web browser and display all purchased tickets (with barcodes) for you to then print. Each printed, barcoded ticket must be presented for examination at the event in order to be allowed entry.
2. Click on each of the hyperlinks which read "View this tickets" (Item #2, highlighted in green). Doing this will launch your web browser each time and display each individual purchased tickets (with barcodes) for you to then print (one at a time).
Note: Each patron must present a single barcoded ticket for examination at the event in order to be allowed entry.
A printed copy of your order confirmation email cannot be used for entry.
Each of your barcoded tickets (which will be required at the event for entry) will look similar to the image below.
EACH PATRON MUST PRESENT THEIR OWN, INDIVIDUAL TICKET.
ONE PERSON CANNOT PRESENT ALL TICKETS FOR MULTIPLE PEOPLE DURING ENTRY.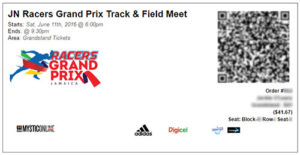 How will I know that my purchase has been processed?
You will receive a emailed receipt which will serve as confirmation of your completed purchase of your eTicket(s).
Am I required to enter a postcode/zip and state/county in the billing details section when ordering from outside of the USA?
Yes, all fields which are denoted by an asterisk (*) must be completed… This includes the city, state/county and postcode/zip fields.
If you are ordering from outside of the USA, you can simply enter the information as indicated below:
• City – enter your city here.
• State/County – enter your province, parish or county here.
• Postcode/Zip – enter "00000" (do not include the quotations).